Okay, guess what has apparently been sitting on my kitchen table all day, unnoticed by me because I hate checking the email.

I'll give you a hint: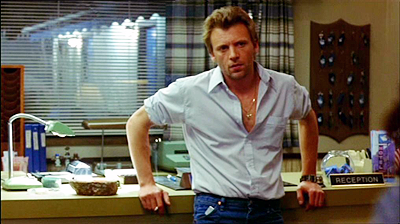 **oh god, notice the bling, the cigarette in hand and the 70's inspired open shirt, *sigh*

OMG do I wish it was actually him waiting for me but alas I must settle for his movie Suspicious River. I seriously only noticed the little manilla package about 10 min. prior to writing this post and going to bed. Too bad.

So I will probably be the happiest girl this weekend because not only do I have a little Callum but I have the other mysterious package arriving wed afternoon (2 day shipping paid out the ass), and the new Harry Potter sob fest on friday. Ooh and can't forget bsg date night with the girls to take a break from all the emotional craziness no doubt caused by HP sob fest.

oh and a quick side note for those who requested graphics: don't worry, I haven't forgotten you. I'm actually reading a book on PS at the moment to improve my skills and get some new ideas. So I should be getting to them very soon.